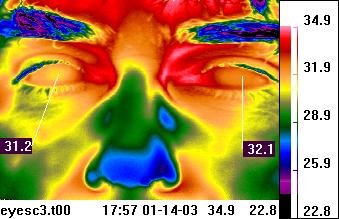 Close-up thermal image of eyes and nose.
Thermal Imaging Software
Going beyond the basics of thermal
imaging software, ThermReview not only handles the essentials for thermographic readouts, it enhances the experience for those interested in really studying the detail and elements of an image. The standards of presenting temperature ranges, delta T, emissivity, graphing, identification and annotation are easily handled. Adding to that, there are many more features that are not available, or even possible, on other systems.
Worldwide Research
Over 6,000 published papers appear
in the medical literature on thermography
and thermal imaging. Some
significant work has been compiled
and selected from the various
health areas. Work in diabetes, obstetrics, neurology, sports medicine, are just a few of the many important uses for this technology. It's far beyond just one application for evaluating human body heat.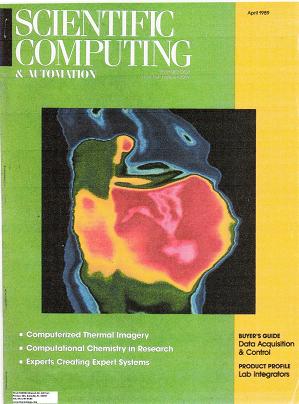 First thermogram studies of expectant mothers.
Ergonomics
Many companies depend
upon solid ergonomics programs
to ensure good working situations
for their employees. Thermal scans are
an important tool for
helping determine the physical
capacity of the worker in relation
to the job requirements. Quick color pictures confirm work related disorders and repetitive strain injuries.