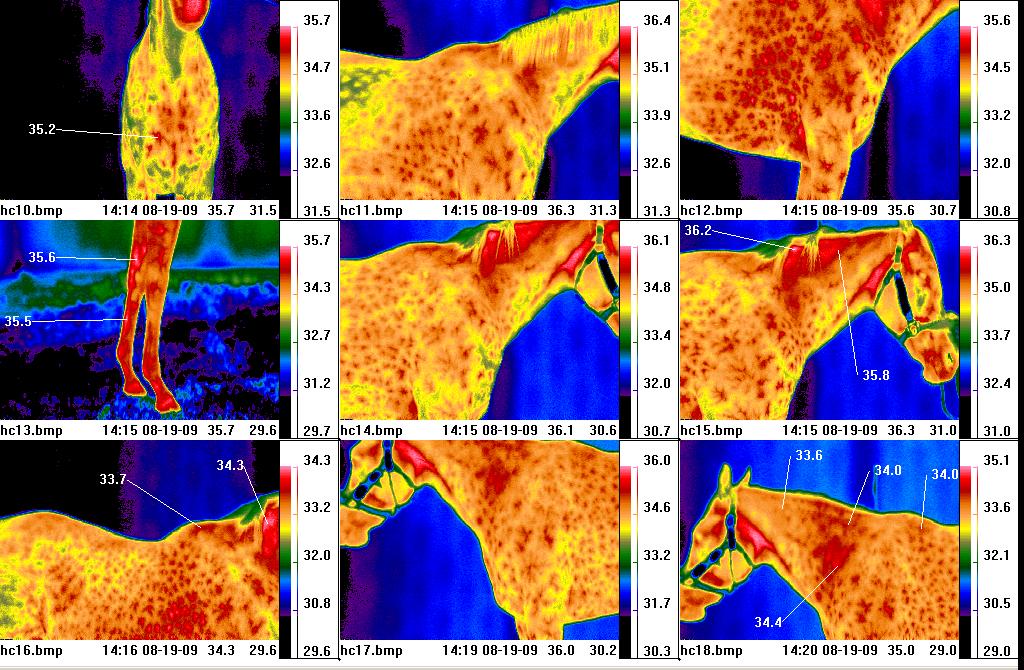 Teletherm Infrared listed by Market Watch as one of the Top Manufacturers of Veterinary Thermography - ref. Veterinary Thermography Market Report, October 13, 2020

J Equine Vet Science, Esteves Trindade PH et al.
Results suggest eye surface temperature has potential to predict changes in creatine kinase activity and could be useful indicator fof physical fitness in ranch horses.



Equine Veterinary Journal -

Department of Large Animal Surgery and Anaesthesiology, Ghent University, Belgium


"Thermography is a valuable and rapid clinical tool to monitor the development of cast sores."

J. Dairy Sci
"A thermal camera mounted in a milking or feeding parlor could detect temperature changes associated with clinical mastitis or other diseases in a dairy herd."


"... changes in circulation may be noted even before lesions can be confirmed with ultrasound."
Clark Equine Clinic, Albion, Idaho

"It can be concluded that surface temperature changes assessed using infrared

thermography

, in particular of the hen's comb, are sensitive to husbandry procedures such as handling and represent a potentially useful method for assessing stress-induced hyperthermia in chickens."
School of Veterinary Sciences, University of Bristol, Langford UK.

Thermal imaging is an objective assessment of the situation where communication between animal and doctor may be limited, or not properly understood through other methods.
For Large and Small Animals
Rapid and Quick Assessments
Non-invasive
Provides Valuable Information
Important for Animal Care
Establish baselines for outcome measures
Monitor efficacy of latest treatments
Stress evaluations
Important for sports and rehabilitation
Efficient for studying livestock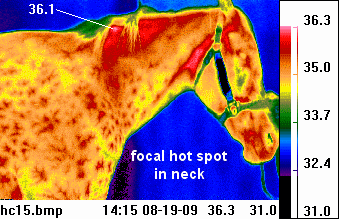 Note detail on the horse image and the various areas of hot and cold associated with the animal's head, neck, leg, hind regions.


Online Veterinary & Equine Infrared Training Program
Thermal imaging eliminates some guesswork.
Provides precise heat map of affected area.

Efficient way to learn more about the animal.

Open Vet J. Department of Animal Science, California Polytechnic State Univ., San Luis Obispo, CA
Thermodynamic effects of commercially available ice boots studied. Thermal images were taken pre-exercise, post-ice boot, and every 2 minutes after until the temperature difference of the control vs. treatment leg became zero.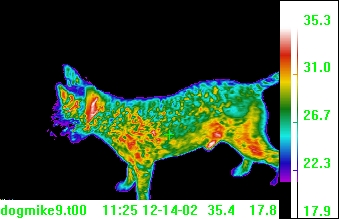 Evaluate the suspensory ligament.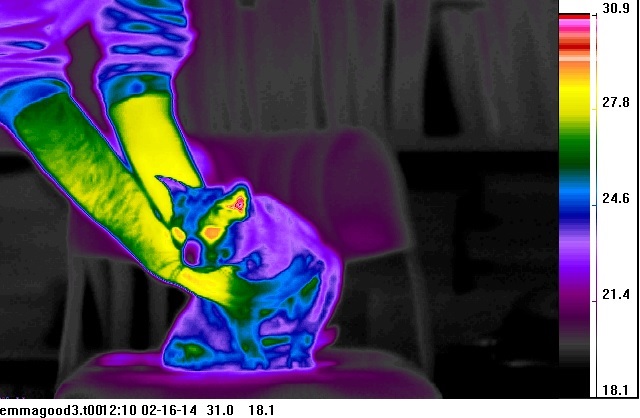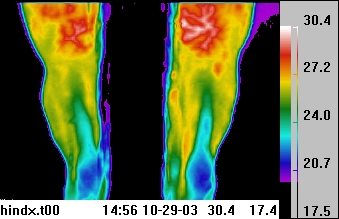 Digital zoom showing muscle tear on right hind.
There has been greater utilization with large animals in the private clinical setting than with small ones.
Zoo animals can also be helped by making sure there are no soft tissue injuries, that otherwise might go undetected.
Laboratory animals such as pigs, rats, rabbits, or monkeys have been used to understand certain disease processes or the effects of pharmaceutical products and therapies.
An objective thermal perspective is provided.