For commercial or home use:
Perishable food, manufacturing, warehouses, museums, HVAC, refrigeration trucking, mold control, vacation homes, greenhouses, wine cellars, humidors, nurseries, attics, crawl spaces, workshops, barns, vehicle cargo spaces, documentation storage..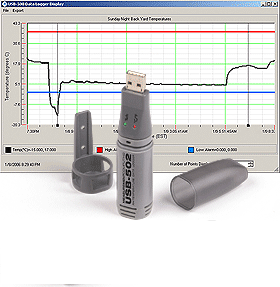 The USB-Temp Logger logs up to 16,382 temperature and 16,382 relative humidity measurements concurrently.
Simply plug the USB-Temp logger into any USB port on your PC—use the intuitive software to name the logger, set your start time and date, sample rate, units (ºC or ºF), and hi/lo alarms—and you're ready. Just place the logger on location and leave it. Status is indicated by flashing red/green and amber LEDs.
When you're through collecting data, plug the logger back in the USB port, download and save the data to your hard drive, display the data in a powerful strip chart, and/or export your data to an Excel® spreadsheet! All software and utilities are bundled with the USB-Temp Logger hardware!